Are you a man whose life feels sort of…boring?…empty?…routine? Have you ever wondered if you are meant to be more than who you've become? If you've sensed there has to be more to being a Christian man that just being a really nice guy, but you've struggled to put your finger on what that might be—then you've come to the right place.
Welcome to Hearts Alive & Free! Our main purpose is to offer events that are designed to help men from all walks of life rediscover, restore, and release their masculine hearts for a higher purpose in God's Kingdom.
Take your journey further by attending one of our events.  You may never be the same!
Upcoming Events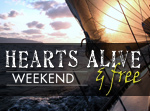 Hearts Alive & Free Weekend
(October 3-6, 2013)
A four-day journey into the recovery of your masculine soul based on the book Wild at Heart.…more>>